The MinWaterCSP concortium met in Rome to discuss the activities and achievements after 18 months of development and implementation.
In July 2017 the MinWaterCSP partners disucssed the interfaces between the workpackage activities and results as well as the results achieved so far.
There are no major deviations in the development and implementations so the work for the exploitation activities were able proceed. A further exploitation workshop was carried out by Steinbeis 2i in which the exploitable results were further defined and described in thematic groups including all relevant partners.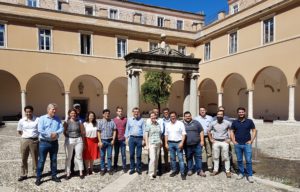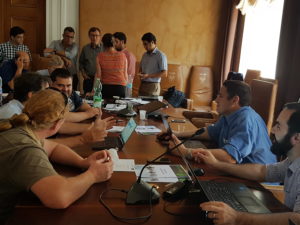 An outlook was made related to the MinWaterCSP conferences organised in 2018:
In March / April an interim conference at the demo-site in Morocco will be organised and the final conference will be held in South Africa, Stellenbosch, in November.
In between site visits (company missions) in Spain, Morocco and South Africa and joint workshops with other LCE projects will be organised.
A first detailed project summary of the approaches and impact will be published in September this year in a September Blog and a press-release.
This summary will also be accessible via MinWaterCSP Social Media Channels (Twitter and LinkedIN).
Author of this blog is: Charlotte Schlicke, Steinbeis 2i GmbH
About Steinbeis 2i GmbH (S2i):
Steinbeis 2i GmbH was founded in 2016 as a 100% spin-off of Steinbeis-Europa-Zentrum (SEZ). S2i is committed to working in the areas of innovation and internationalisation, building on the 25-years of experience of Steinbeis-Europa-Zentrum. The core activities of the S2i are to assist organizations to participate in European R&D projects, to support the management of international research projects, to give assistance in the exploitation of research results, to promote trans-national technology transfer and to stimulate and support the innovation process in industrial companies and to provide professional training.
In MinWaterCSP S2i supports the coordination team in financial and administrative issues, is WP leader for Communication and Dissemination and WP Leader for Exploitation.